Conference Venue
Main venue
International Conference Center (Build.10)
Toyohira campus, Hokkai-Gakuen University
4-1-40 Asahi-cho, Toyohira, Sapporo, Hokkaido, 062-8605, JAPAN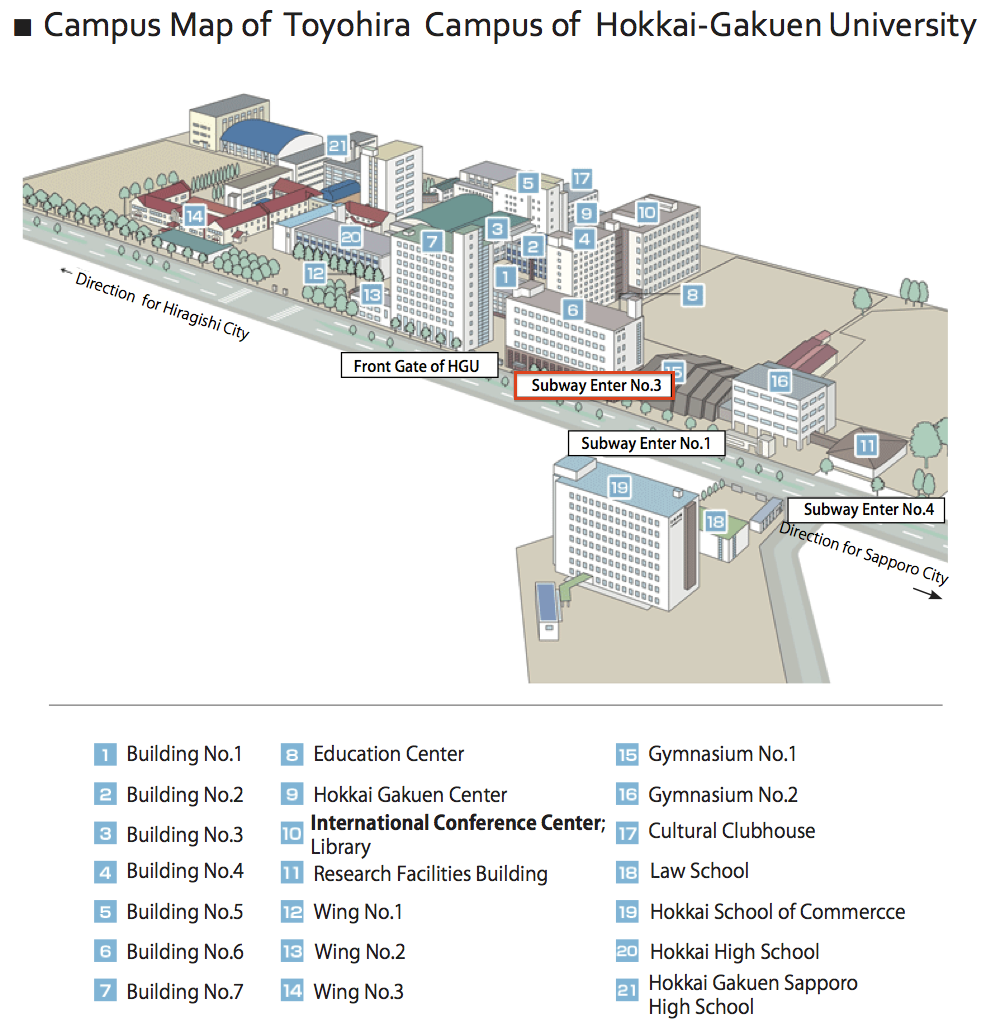 ---

View Larger Map

Access from Sapporo City Area to Toyohira Campus

Take the subway "Toho Line" bound for "Fukuzumi".
Get off at "Gakuenmae Station*" and exit from "No.3 exit/entrance".
"Gakuenmae station" can directly access to Toyohira Campus of Hokkai Gakuen University.
(You need 11 min. from Sapporo Station. Fare is 200 JPY.)

* "Gakuenmae" means the front of Hokkai-Gakuen University.

Please check transportation information of Sapporo.
---
Access to Sapporo city in Hokkaido

New Chitose Airport (Sapporo) has regular direct international flights from various cities of East-Asia.
New Chitose Airport is connected from International airports of Narita, Haneda, Central Japan (Nagoya) and Kansai by connecting flights. Other regional airports connects to New Chitose Airport, too.

Take the Japan Railways(JR) Rapid Airport Express from "New Chitose Airport" station to "Sapporo" station.
All trains leaving the airport go to Sapporo.
Or, take the Airport Limousine to Sapporo terminal.

JR Rapid Airport Express : 39 min. 1,070 JPY

Information of JR Rapid Airport Express is Here.

Airport Limousine : about 70 min. 1,030 JPY

Some major Hotels in Sapporo are directly connected from New-Chitose Airport by Airport Limousine bus.


View Larger Map
Where is Sapporo?
(From Sapporo Tourism Official website in Culture and Tourism Bureau)
Sapporo is the northernmost city designated by government ordinance. It has the 5th largest population in Japan. The characteristics of the summer is that there is no rainy season and is not affected by hurricanes. The water resources is abundant due to snow that remains on the mountains into the summer, which acts as storage of water. The average temperature reaches 20℃ (68°F) in the summer, but the humidity is low and the temperature is cool during the morning and evening.
Conveniently situated close to the city of Sapporo, New Chitose Airport has regular direct international flights to various cities overseas, with domestic flights to Japan's main international airports at Narita, Haneda, Nagoya and Kansai as well as other regional airports. Also, Okadama Airport, in the suburbs of Sapporo, provides connections to more than six regional airports throughout Hokkaido. http://www.welcome.city.sapporo.jp/?lang=en